Can you really do San Francisco in 2 days?
Short answer: yes and no. You won't be able to hit every neighborhood but you will be able to see, eat, and do enough to make you want to plan a return trip! Earlier this year my mom and I signed up for a surprise trip with Pack Up & Go for a weekend getaway somewhere in the United States. We waited patiently for weeks to find out where we were going and the night before our flight we couldn't take it anymore and we opened the envelope. We were going to San Francisco! Mom was thrilled because she'd never been there and I immediately started to panic in my head, "how in the world are we going to do SF in 2 days?"
This post contains affiliate links. If you purchase something from one of these links, I may earn a small commission at no extra charge to you.
2 Days in San Francisco
On the plane, I looked through our itinerary options and realized we'd have to decide on a few things quickly so we could hit the ground running upon arrival.
Friday
Hotel Check-in - Omni San Francisco
Located in the heart of the Financial District, the Omni was a good home base for us. The staff was really friendly and helpful. We stashed our bags and headed around the corner to Chinatown for lunch.
Lunch at Golden Flower Restaurant
We beat the lunch rush at this cute mom and pop restaurant. It was a chilly morning in SF so we ordered giant bowls of pho and sipped on green tea to warm up. We quickly placed our order with the owner because she warned us she frequently gets large groups starting at around 12 pm each weekend and the line will wrap around the building.
Afternoon Sightseeing - Coit Tower, Fisherman's Wharf, North Beach
After we walked around Chinatown we hopped in a cab to Coit Tower. The slender tower was built in 1933 and named for Lillie Hitchcock Coit, a wealthy eccentric and patron of the city's firefighters. Coit left the tower to the city "for the purpose of adding to the beauty of the city I have always loved." Today it is open as a museum and offers 360-degree views of the city from the top of its tower. The murals on the ground floor of the tower are equally intriguing. Painted in 1934 by the Works Progress Administration, they depict the harsh reality of California during the Depression. It costs $8 to ride to the top of the elevator but I think it's worth the cost to see that view.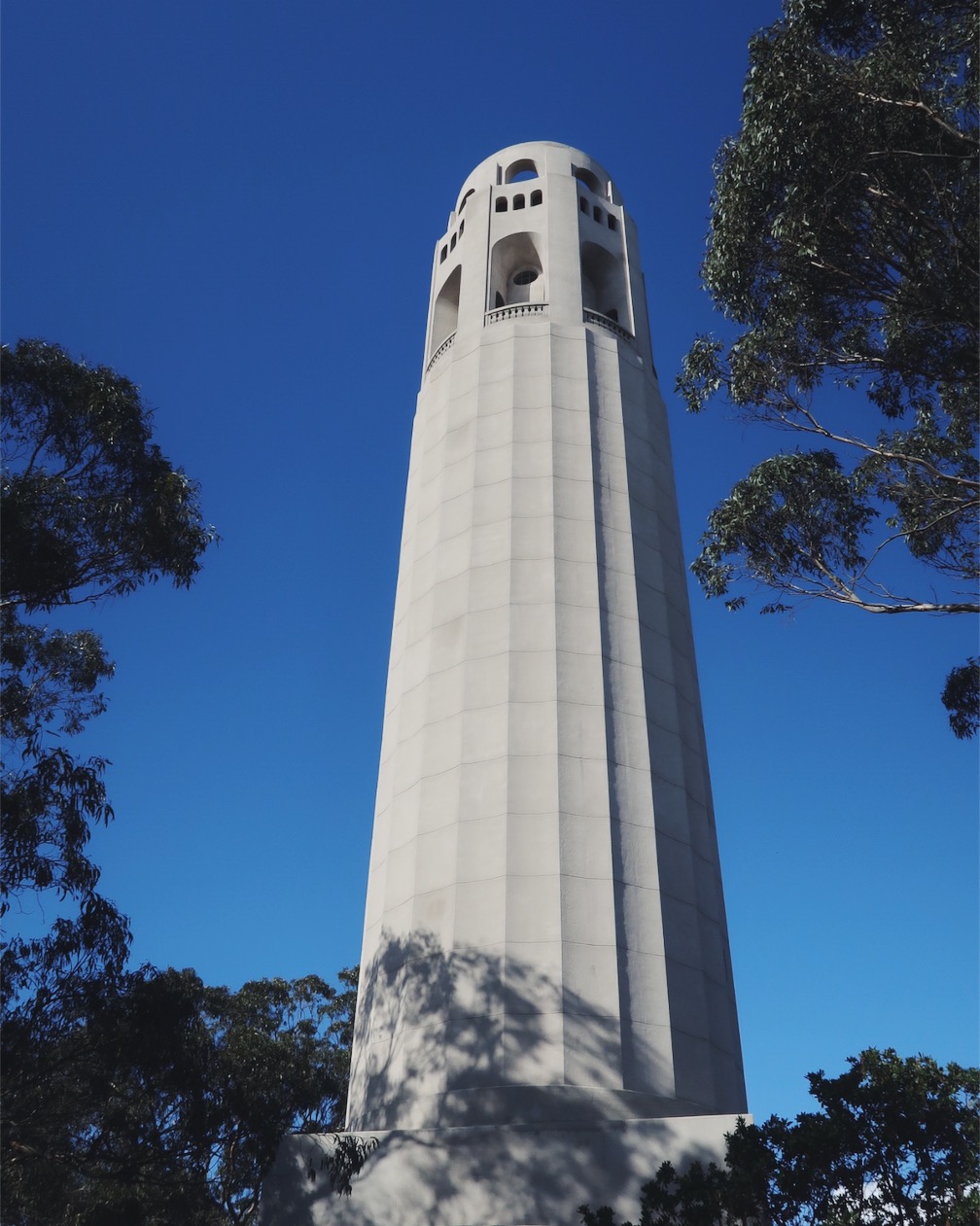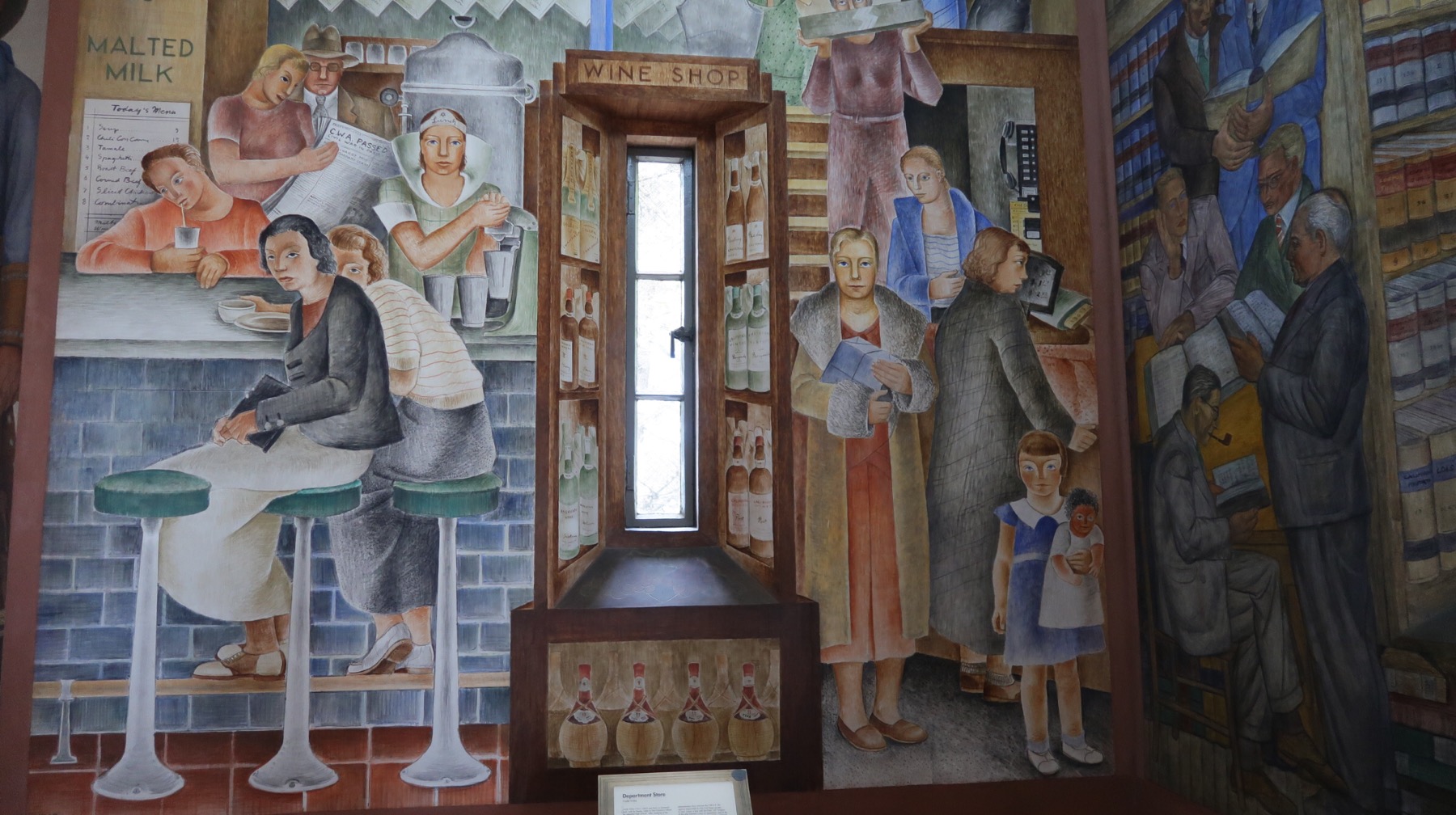 We decided to wander around Telegraph Hill and ended up walking down the famous and incredibly steep Filbert Street Stairs. I didn't think I was afraid of heights, but walking straight down and scoping out the incredible homes stacked on this cliff was challenging for me. Once we got back on the ground, it was time for a snack and beer. We wandered to the Embercado neighborhood and stumbled across the Fog City Diner. We snacked on oysters, french fries and a couple of Fort Point Kolsches.
After a little stroll around Fisherman's Wharf, we started our hike back up to our hotel by way of North Beach.
North Beach is quite charming, with its streets lined with cafes and shops. Washington Square is the community hub anchored by the stunning St. Peters and Paul Church. I wish we would've had more time to shop in this area but managed to find Lola of North Beach. Lola is one of the cutest gift shops I've ever seen. They have party planning goods, every card imaginable, and a great section of stylish and not at all cheesy SF t-shirts, totes, buttons, and more.
Dinner at Waterbar
We had reservations for 6 pm thanks to Pack Up + Go plus a $100 gift certificate so we were not going to miss that reservation. The restaurant was very hip and looked out at the water and the Oakland bridge. We ordered a smorgasbord of small plates and seafood from the raw bar and ate ourselves silly. To top off the night our server brought us some decadent chocolate truffles because we couldn't bring ourselves to order a full dessert.
Saturday
The bridge sees an average of 27,000 visitors a day but absolutely worth checking out if you are interested in history, architecture, or just really want the photo op. Clear skies almost never happen in the Bay Area so we decided to brave the crowds to go check out this Art Deco beauty basking in the sun. I'd driving across the bridge before but being able to study it from the welcome center you realize the magnitude of the project and can appreciate it for the incredible architectural and engineering accomplishment it is. The cost is said to have been $35 million dollars in the 1930's, approximately $1.5 billion in year 2016 dollars. If you're an architecture nerd, don't miss the History of the Design Exhibit near the lower level by the stairs. If you start your day here, there is a cafe with a variety of pastries and coffee available. If souvenirs are your thing, the welcome center here has it all. If you don't have a car, you can take the Presidigo shuttle to the Presidio or back downtown.
In disbelief of our good weather situation, we continued our walk on the coast trail and made our way to the Presidio. What was once a military outpost for the Spanish and then the US, the Presidio has been a national park site since 1994. There are miles of trails for hiking and picnic spots galore; we meandered through the main post discussing our next move.
Two tickets to the SFMOMA were included in our packet from Pack UP + Go so we headed straight there from the Presidio. I could spend an entire day in a museum, especially one like this. Floors of modern art masters, free public art, outdoor sculpture, I could go on and on. We even left one room and I followed the smell of buttery pastries down the hall and there was a bustling coffee shop in the middle of the gallery. We explored an enormous Walker Evans exhibit and outdoor sculptures by their massive living wall garden before we decided we desperately needed food.
Lunch at The Grove
The Grove is a locally owned cafe with outposts all over the city. The place had a very mountain town vibe with actual trees indoors, wood floors, big leather club chairs, a fireplace; it'd be a great place to hang out with a big group. The Grove serves all kinds of sandwiches, salads, and breakfast all day (woo!). We opted for the open-fire smoked salmon platter, bacon wrapped dates stuffed with Point Reyes blue cheese (hell yes) and some French onion soup. It was sunny but windy, comfort food was necessary.
We realized the Women's March was going on so we joined in for a few blocks dancing and marching our way up Market Street. Afterward, we shopped around Union Square, had some more coffee, then decided to rest our feet a bit at my mom's favorite place in the world, Drybar. At first, I resisted the idea of spending an hour plus to have our hair done but the minute we walked in and gave us a little bubbly I stopped resisting. A little R&R on vacation is a must, right? Turned out to be a great idea because when we finished up we both felt refreshed and were ready to go out again without making a trip back to our hotel.
We hit the town with my friend Lia and her husband Jeremy of Practical Wanderlust for drinks in SOMA at Bloodhound. We chatted about blogging, Bloomington (Lia is an IU grad), SF and all of its changes for hours. A few rounds of Moscow mules on tap, we attempted to find dinner just after 10 pm and epically failed. After the 4th restaurant told me their kitchen closed at 10 pm I called off the hunt. Room service burgers quelled our hanger and were thankfully very tasty.
Sunday
Determined to redeem myself after failing at finding dinner the night before, I coerced my mom to get up really early with me to get brunch at Brenda's French Soul Food. People rave about this place so I figured we may as well try and get in before our noon flight. Shockingly we beat the rush and were seated immediately. They had Louisiana's own Community Coffee, beignets, omelettes, shrimp and grits, and more. I don't think you could go wrong with anything on the menu. Brenda's is known to have a massive line out front on Sundays so plan accordingly; they open at 8 am.
Verdict
We'd planned on exploring Golden Gate Park and the Mission but we just ran out of time. It's a little touristy but I love walking around Haight Ashbury. The brightly colored Victorians are beautiful, there are a few fun boutiques, and of course one of the best beer bars in town.
We covered a lot of ground in 2 days but there is plenty I want to see next time. Have you been to San Francisco?
Pin for Later